Book by George Abbott and Richard Bissell. Music and Lyrics by Richard Adler and Jerry Ross.
Based on the novel "7 1/2 cents" by Richard Bissell
Directed by Michael Kamtman
Music Direction by Garrett Saake
Choreography by Karla Coghill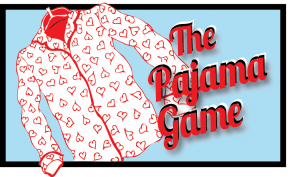 About The Show:
Conditions at the Sleep-Tite Pajama Factory are anything but peaceful, as sparks fly between new superintendent Sid Sorokin and Babe Williams, leader of the union grievance committee. Their relationship comes to a head when the workers strike for a 7 1/2 cent pay increase. This Tony award-winning musical features plenty of fun and splashy production numbers. This show is a glowing example of the best in classic musical comedy.

Dates
June 19-20 – 8:00pm
June 21 – 2:00pm
June 25-27- 8:00pm
June 28 – 2:00pm
Location
James Fitzpatrick Auditorium
Kernersville Elementary School
512 West Mountain Street
Kernersville, NC 27284
Directions
Tickets
Tickets are available at the door only.
Adult – $18
Student/Senior (60+) – $16
Children (12 and under) – $10
Ticket prices include NC State sales tax

About Our Director:

MICHAEL KAMTMAN has had a long association with KLT that dates back to 1995 when he directed The Sound of Music. Since then he has also directed South Pacific, The Secret Garden, and Inherit the Wind for KLT.  Michael has been a Triad director, actor, and teacher since 1988.  He has directed over 75 productions in the Triad, including 10 operas.  In the spring of 2013, Michael played Charles Dickens in the world premiere of A Perfect Likeness with The Paper Lantern Theatre.  In the summer of 2013 he played Lucky in Waiting for Godot with the High Point University Extension Project.   He spent 15 seasons as an actor/fight choreographer with the N.C. Shakespeare Festival where he performed in over 50 productions. Michael has an MFA in Directing from UNC-Greensboro, a MA from the University of Connecticut, and a BA from Bucknell University.  He teaches or has taught at Greensboro College, Davidson College, UNC – Greensboro, Salem College, High Point University, and Wake Forest University.
Our Music Director: Garrett Saake
Our Cast:
Babe Williams…………………….Ann Davis-Rowe
Sid Sorokin………………………..Stephen Rayfield
Gladys Hotchkiss………………..Becky King
Vernon Hines……………………..Jim Freeman
Prez…………………………………..Seph Schonekas
Mabel………………………………..Jacki Marano
Myron Hasler…………………….Mickey Hyland
Pop……………………………………Ken Ashford
Mae…………………………………..Alison Freeman
Poopsie……………………………..Rachel Schroeder
Brenda………………………………Beth Cox
Charlie/Steam Heat Dancer……Jayson Crawford
Joe/Steam Heat Dancer………….Darron Hayes
Max…………………………………..Shawn Fitzmaurice
Virginia……………………………..Ashlyn Brodeur
Sandra……………………………….Katherine Ledbetter
Carmen………………………………Kelli Sobolik
Charlene…………………………….Chris Hughes
Mary………………………………….Melanie Crews
Mara………………………………….Sarah Kepins
Mae……………………………………Alison Freeman
Rita……………………………………Judith Gillis
Ann……………………………………Caroline Holland
Second Helper/Waiter…………… Aaron DiMattia
First Helper…………………………Noah Orr
THE PAJAMA GAME is presented through special arrangement with Music Theatre International (MTI). All authorized performance materials are also supplied by MTI.  421 West 54th Street, New York, NY 10019.  Phone: 212-541-4684   Fax: 212-397-4684   www.MTIShows.com