Rachel Schroeder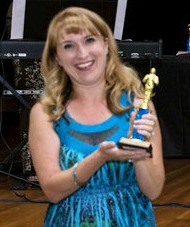 Rachel's first "major" role was as a 3rd grader in a church musical called "We Like Sheep". She was one of the main sheep and had a lot of lines for someone that age. "I   think as a creative person, once you get that taste of something that fulfills that creative desire, you cannot get enough" jokes Rachel. Many roles after that were         church roles, and her parents and grandparents would also take her to the local stage  in town. Some of the earliest shows that she saw were "The Velveteen Rabbit" and "Little Shop of Horrors"        
Rachel continued her theatre hobby into high school. Her favorite high school roles were Frenchy in "Grease" and Kathy in "Vanities"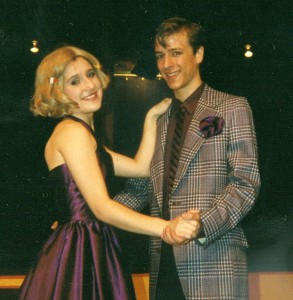 Rachel took a different path in college and graduated with a degree from Appalachian State in International Studies. Her college career was filled with international travel and civic organizations, and she found there that she had a love for service and leadership in many capacities. "I had a hard time deciding what I wanted to do after I finished school" says Rachel. She also met her husband Christian there, and he needed an internship in the hospitality industry so they decided to move to Myrtle Beach to start their careers.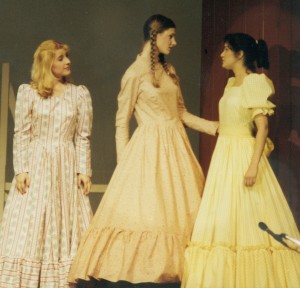 For over 10 years Rachel had little to no theatre in her life, and missed it terribly. Myrtle Beach was not a place that had this. Myrtle Beach had the professional theatres like Dixie Stampede and the Alabama Theatre more geared to the tourists, but not anything for the local community. When their careers led them back to North Carolina in 2010, Christian and Rachel were happy to be back close to friends and family. "Imagine my sensory overload when I figured out how many theatre options we had here in the area!"
Rachel's first experience with KLT was an audition notice for the Musical Adventures of Tom Saywer. "I had not done an audition in so long, and I can remember nervously sitting and waiting to be called, thinking, if I leave now, no one will even know I was here!" Fortunately, she stuck it out and got the role of Aunt Polly. She can still remember how nice Judith Gillis and Danny Scruggs, 2 KLT regulars were during the audition process. She had a wonderful time during Tom Sawyer, with all of the people onstage and off and wanted to get more involved.
Rachel initially got more involved by chairing KLT's play reading committee and a couple years later, she was asked to serve on the board. "I was excited because this role would combine my passion for theatre and my love of community service perfectly." Rachel credits her family for all of their support of her passion. " I could not do this without my family, and I try to thank them at every chance I get". Now serving as board President, Rachel enjoys the friendships and sense of community that Kernersville Little Theatre provides, and looks forward to many more years of fun with the organization.