Meet Carlo St. James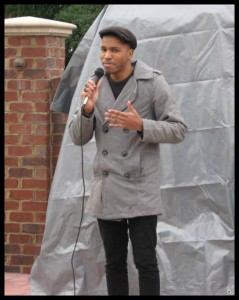 Carlo St. James says he never had an "a-ha" moment when he knew he wanted to act and sing. "Growing up, I acted and sang in school and church," says Carlo. "It was always second nature. I thought all kids did it."
Carlo had his first role on stage at the tender age of six. "I played a red bird and was so embarrassed because I had to wear red pantyhose," he laughingly admits. Carlo also began singing in the church choir. He continued singing and acting throughout junior high and high school. He appeared on a local TV show KidTalk and was part of two choirs.
Upon graduation, Carlo entered UNCG to study fashion marketing. "I stuck myself with so many pins and needles I felt like a voodoo doll," he jokes. He knew his true passion was to be performing. In 2006 Carlo moved to Washington, DC where he focused on jazz music. "I still dabbled in theatre a bit, but wasn't doing several productions a year," he says.
In 2008, Carlo lost his best friend and number one fan, his beloved Grandmother. "She always asked me what was going on with my music, acting and other endeavors." He moved back to Greensboro and took a three year break from performing. Says Carlo, "It was a difficult time for me. I did a lot of soul searching and finally realized it was time to take the stage again."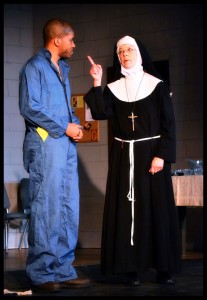 Carlo began researching local theatres and came across Kernersville Little Theatre's audition notice for Kilroy Was Here. He chose one of his favorite ballads, "Hey There" from Pajama Game for his audition and was cast in the role of a sailor. Carlo says he met many great people during this production and some are now his close friends. He played the role of George in KLT's production of Drinking Habits for which he received a supporting actor nomination with KLT's annual acting awards. "It's sort of like KLT helped bring the actor in me back to life again," he says. "Everyone was so welcoming and encouraging."
In September 2013, Carlo was elected to the Kernersville Little Theatre Board of Directors. "Carlo is generous in giving his time to KLT both on and off the stage," says KLT Board President Rachel Schroeder. "His insight as an actor will be a great asset to us as we work to engage those in the theatre community."
Be sure to look for Carlo on stage around the Triad. He's an actor, singer, and a talented member of the KLT family.